SHARON MCCALLUM - BONES AND BUGLES

About Us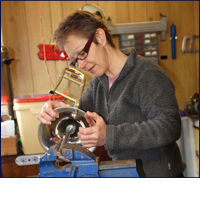 Sharon trained at Merton Technical College. During her two years at the college she specialised in the repair of brass instruments. After leaving college Sharon was employed by Music 23 in Lewes, Sussex, as a full time instrument repairer.
After the death of her father Sharon decided that the best way forward was to set up her own brass repair business, initially in Wallington, Reigate then Golford Gate Farm, near Cranbrook also working at 'The Valve' in London. Recently she has moved to a farm Near Carmarthen in west Wales taking the workshops along too, so now, you can enjoy the stunning views whilst waiting for your instruments.
Callers are welcome but by appointment only.
Telephone: 01884 881733
Address
8 Meadow View,
Rackenford,
Devon,
EX16 8DS
Telephone
01884 881733
Email